Podcasts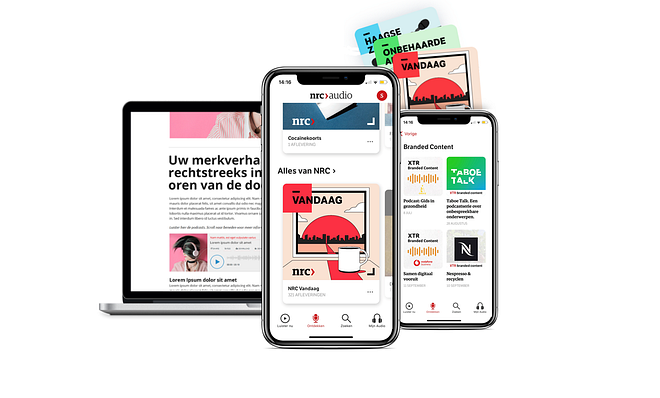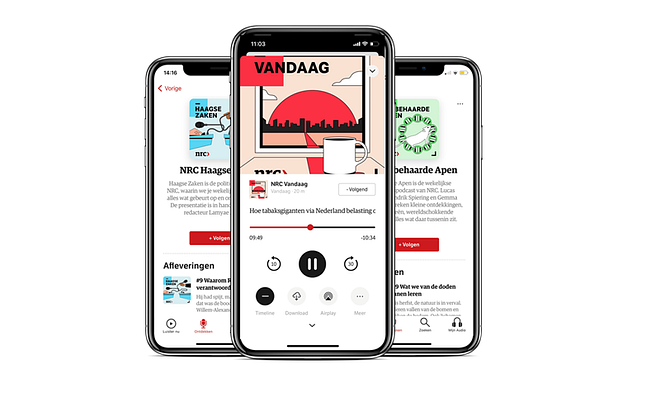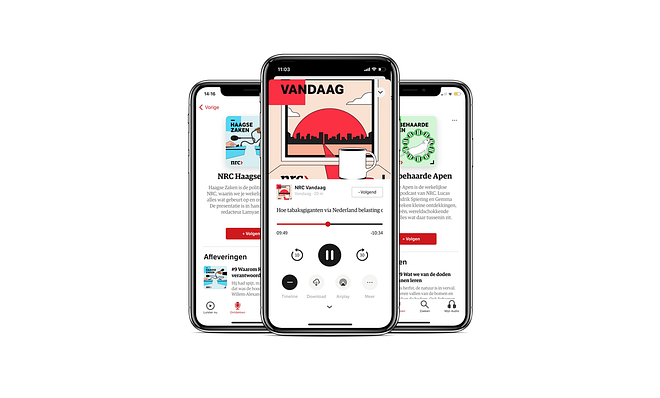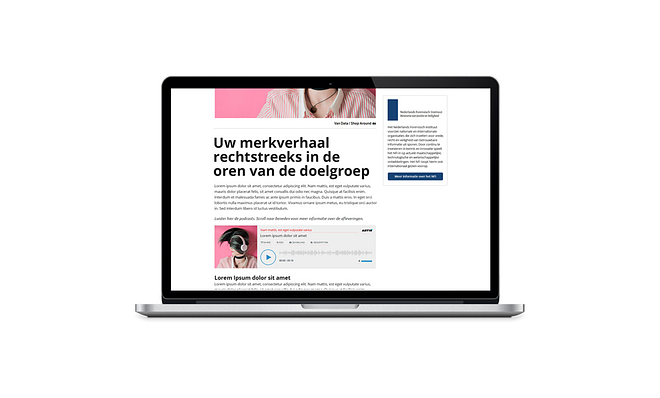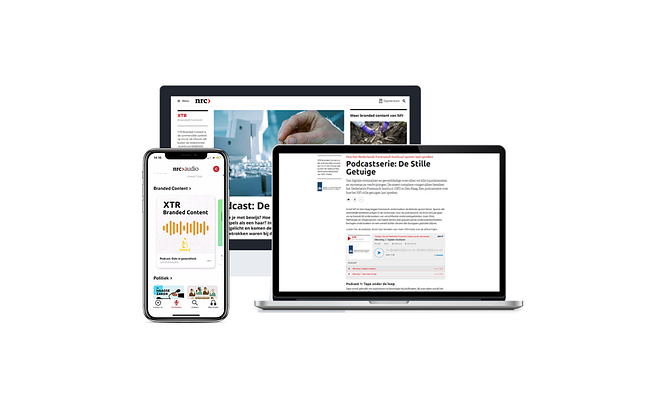 Full screen





Description
Connect your brand to an NRC podcast
Reach listeners with your commercial message when they are on-the-go and fully focused. Discover all the possibilities: an advertisement spot in one of our podcasts, your own advertorial podcast or a tailor-made NRC XTR Branded Podcast.

Advertisement spot in one of our podcasts
NRC has three successful podcasts: NRC Vandaag – one news story every working day, NRC Onbehaarde Apen – about science and NRC Haagse Zaken – about politics. Since October 2020, NRC has its own audio app: NRC Audio, a gathering place for audio journalism from NRC and the world.

In addition to the three successful podcasts that can be listened to on every streaming platform, NRC also has several gems that can only be listened to via the NRC Audio app. The fortnightly podcast Future Affairs (good conversations about the future), the weekly podcasts Onder de streep (about the economy) and Tussen de regels (about books) and journalistic narrative series such as Cocaïne Koorts, Hans and De Keerzijde. There is something for everyone.

There is room for your commercial message before each of these podcasts. Ask your account manager for more information about the available podcasts.

We provide a suitable advertising spot for you in our podcasts. Together we discuss the talking points that you provide and we transform these into a beautiful, appropriate advertising spot, recorded by a voice actor (not host-read).

Advertorial podcast
Your brand story in the form of your own advertorial podcast. The advertorial podcast is an innovative advertising product with which we can literally bring your story and/or message into the ears of the NRC supporters in a substantive way. We do this by capturing your story and your message in a series of interesting conversations, led by a knowledgeable host.

NRC XTR Branded Podcast
A podcast or podcast series tailor-made by our branded content team. NRC branded content brings your story or message in an innovative narrative form: literally into the ear of your target group. Based on an extensive knowledge session, our skilled branded content team works towards a smart creative concept, a detailed format and a concrete audio script. Your branded podcast will also be given a prominent place in our own NRC Audio app.

With your commercial message in our podcasts you directly and effectively reach a mainly young, highly educated target group that listens very consciously and focused. Listeners turn on a podcast when they can give it their full attention. For example, while traveling or exercising. In addition, your message comes in undisturbed, because podcast listeners often use headphones and are not distracted by ambient noise. You cannot get any closer to your target group with your commercial message.

For more information, please contact your account manager or mail us via sales@nrc.nl.